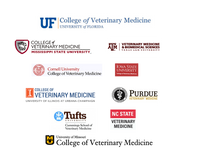 Neck's Best Thing custom dog braces are available for varieties of Injuries and chronic conditions. It meets your pet's specific injury. Our focus when fabricating the brace is to reduce the pain and provide support and comfort. It is designed to meet the prescribed therapeutic goals provided by your Veterinarian.
The compression offered by the brace ensures compression and traction of the neck, valid alternative to the Elizabeth collar. This brace can also be used for cats.
Necks Best Thing's Veterinarians schools as Customers.
Testimonials
We love it! It's the best collar we've used to prevent the plucking. No more cone heads. Sizing was easy. The Dog could eat, drink and didn't run into anything, It worked like a charm and lets her live life without smashing through the house with a cone of shame.

Gina
Thank you for providing us with the best type of E-collar our dogs have ever had! We have always hated watching them try to play with the big bulky sharp-like ones and after searching out solutions, our team definitely appreciates your innovative products and friendly, personable customer service. Thank you! 

Bonnie
"As a small animal veterinary practice that encompasses all things 'fear free', the Neck's BEST THING neck brace is the best option to restrict a dog or cat's ability to get to suture/wound sites in the most comfortable way possible. Eating, drinking and sleeping comfortably is a breeze, while access to the outside using 'dog/cat' doors is no longer an exercise in frustration. Thank you Necks BEST THING for a wonderful alternative to the dreaded 'Cone of shame - E collar' - our Vets and Clients love them"

 

Mona Vale Veterinary Hospital
NBT Brace was the better option in terms of improvement than E-collar. It was less stressful for my dog, which allowed us to reduce the anti anxiety medication. It is well padded and doesn't seem to create discomfort. There was no hot spot issue as well.

Bryan
Our Vet gave us one of the cone collar after the surgery. While it helped from licking the sutures, he was knocking everything over. As looking for alternative our Vet suggested Neck's Best Thing Brace and it worked out great. He was a lot calmer and was able to have peripheral vision.. Its perfectly adjustable and worth it.

Audery
I bought NBT Brace for one of my dogs post surgery. I was advised by my Vet about how to ensure the proper fit and how important it is. No more smacking into stuff. I think it's a good option to keep the recuperation process less stressful for dogs.

Jane